SATURDAY - APRIL 6TH, 2019 - CHARLOTTE, NC
The StickWithUs Organization annually supports the Wounded Warrior Project with the Champions Challenge Lacrosse Event. We embrace the WWP mission to honor and empower Wounded Warriors. The event features the North Carolina Private and Public school State Champions along with inviting the top talented teams from the Region & Country.

All proceeds from the day are donated to the Wounded Warrior Project. In addition to a substantial contribution to the WWP on behalf of The StickWithUs Organization, we are actively seeking charitable donations to assist with the cost of producing this first-class lacrosse event. In our first 4 years, we have sent contributions of nearly $80,000 to the WWP.
---

Support the Champions Challenge
How to Contribute
Contributions to The StickWithUs Organization, a tax-exempt organization under Section 501(c)(3) of the Internal Revenue Code, are deductible for computing income and estate taxes. The StickWithUs Organization is registered with the North Carolina Secretary of State and is a 501(c)(3) organization and contributions to it are tax-deductible to the extent allowed by law.

Contribution Gateway
To make a secure online donation to The StickWithUs Organization you may use our credit card gateway, please click the DONATE button to contribute.

Corporate Donations & Title Sponsor Opportunities
Title Sponsor - Please contact StickWithUs for details
Gold Level Contributions - $1,000-$2,000
Silver Level Contributions - $250-$500
Bronze Level Contributions - Under $250

---

Game Day Raffle Donations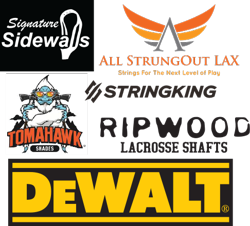 In addition to monetary and in-kind donations the Champions Challenge holds an all-day raffle - proceeds for the raffle donated directly to the WWP - have a product or service you would like to donate? Please contact us at info@stickwithus.org
All StrungOut Lacrosse
DeWALT TOOLS
Ripwood Lacrosse Shafts
StringKing Lacrosse
Signature Sidewalls
Tomahawk Shades
---

2019 Matchups & Schedule
The 5th Annual Champions Challenge - Saturday, April 6th, 2019
11:00am
Nichols School Vikings (NY) vs. Southlake Christian Eagles (NC)
1:00pm
Providence Day School Chargers (NC) vs. Charlotte Catholic Cougars (NC)
3:00pm
Apex Cougars (NC) vs. Oceanside Collegiate Sharks (SC)
5:00pm
Weddington Warriors (NC) vs. Middle Creek Mustangs (NC)
7:00pm
featured speaker from WWP addresses players & fans
7:40pm
Christ School Greenies (NC) vs Lake Norman Wildcats (NC)
Located At The Stadium Field at the Sportsplex at Matthews - 2425 Sports Parkway Matthews, NC 28105
Admission is only $15 adults, $10 students per person, includes all 5 games. All proceeds from the day benefit the Wounded Warrior Project. In addition to a substantial contribution to the WWP on behalf of The StickWithUs Organization, we are actively seeking charitable donations to assist with the cost of producing this first-class lacrosse event; please click the DONATE button to contribute