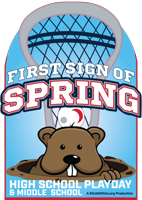 The 10th annual play day is scheduled for Saturday, February 23, 2019. All games are guaranteed. Play day consists of three 48-minute scrimmages (12-minute quarters).
Certified game officials
On-site athletic trainer

** Please note that if both teams agree the first scrimmage of the day, or any portion of it, may be used as a situational controlled scrimmage to work on EMO/EMD or another game situation coaches would like to work on.
FIRST SIGN OF SPRING TOURNAMENT DETAILS
DIVISIONS

High school varsity
High school JV
Middle school A teams
Middle school B teams

DATE
Saturday, February 23, 2019
LOCATION
The Sportsplex at Matthews featuring nine turf fields
COST
$595 per team
REGISTRATION DEADLINE
Friday, February 1, 2019