TEAM 24/7 AND TEAM CAROLINA INK PARTNERSHIP TO CREATE CAROLINA 24/7

Team 24/7's Ryan Flanagan and Team Carolina's Michael Desmond have agreed to pool their resources at the high school level, to create the area's only truly elite high school lacrosse program called CAROLINA 24/7.

PLAYER EVALUATIONS
Athletes Interested in playing for CAROLINA 24/7, in the summer of 2019, must register for and attend our player evaluations
YOG 2020 & 2021 - Saturday, December 1from 3:00 to 5:00 pm @ Elon Park Field #4
YOG 2022 - Saturday, December 8 from 11:00 am to 1:00 pm @ Elon Park field #4
There is NO cost to attend player evaluations. To participate in the player evaluations, all interested players must complete the online registration form.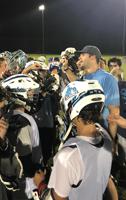 CAROLINA 24/7 DIRECTOR RYAN FLANAGAN
Ryan Flanagan was a 3x All-America defenseman at the University of North Carolina while being named NCAA D1 Defenseman of the Year in 2010.
After graduation in 2011, Ryan started Team 24/7 Lacrosse to fulfill his passion for coaching and growing the game. He also moved to Charlotte, NC where he started his professional lacrosse career with the Charlotte Hounds of Major League Lacrosse.
Ryan went on to make 4 Major League Lacrosse All-Star Games in his 7-year MLL career before moving to the Premier Lacrosse League in 2018. Through Team 24/7 Lacrosse, Ryan has assisted numerous lacrosse players in the Charlotte lacrosse community from athletes picking up a stick for the first time to players currently Division 1 lacrosse.